We have some very exciting news here on New Years Day! IGA is very excited to announce that we have an "IGA National Training Centre", in Lancashire. We are grateful to Flic Flac Gymnastics for their vision and allowing IGA the use of their facilities when the venue transformation is completed.
Currently the brand new IGA World Gymnastics Equipment from Liverpool is currently stored here. Looking at the pictures below, you would have never guessed that underneath this area is a swimming pool, ready to be converted into a pitted gymnasium.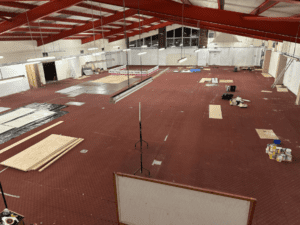 IGA will continue to use Milton Keynes for it's South Competitions, but we will be able to expand the numbers in the North Zone and South Zone.
2023, is going to be a fantastic year!